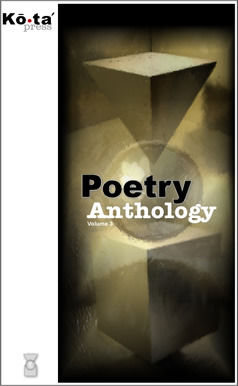 Published by KotaPress
ISSN 1534-1429
ISBN 1-929359-19-5
Price: free, only available in ebook format

KotaPress Poetry Anthology
Volume 3 - 2003
Contributing Authors: Abha Iyengar, Brandon Reed, Candy Gourlay, Chris Bordeaux, Christopher Barnett, David Morgan, Durlabh Singh, Floria Kelderhouse, Gian Kurt Iseppi, Janet Buck, John Birkbeck, Nancy Watts, Pat Phillips West, Patricia Wellingham-Jones, Radames Ortiz, Rebecca B. Whited, Reid Baer, RM Engelhardt, and Vera Long

We proudly present the Third Volume of the KotaPress Poetry Anthology! We are presenting this year's issue in both Microsoft Reader eBook format and in .pdf for Mac users. Hope you'll download and take a look at these fabulous poets!
Available in ebook format only --
Download free below!
NOTE: Downloads may take several minutes. You might see a blank screen during the download, but if you can be patient, it will show up.
Click here to download the Microsoft Reader Version of this book for free now.
Microsoft Reader files should download into your own personal Microsoft Reader Library.
Click here to download the PDF Version of this book for free now.
Acrobat .pdf will open in a separate browser window. You can read it there or print it to read later.
If you need Microsoft Reader or Acrobat reader, they are free from Microsoft and/or Adobe.
Excerpts and Author Bios for Vol 3
Click on author name for bios & excerpts:
Reid Baer
Christopher Barnett
John Birkbeck
Chris Bordeaux
Janet Buck
R.M. Engelhardt
Candy Gourlay
Gian Kurt Iseppi
Abha Iyengar
Floria Kelderhouse
Vera Long
David Morgan
Radames Ortiz
Brandon Reed
Durlabh Singh
Nancy Watts
Patricia Wellingham-Jones
Pat Phillips West
Rebecca B. Whited
All of the above mentioned authors are featured in the KotaPress Poetry Anthology, Volume 3-2003