Lynn: A place to learn a bit about process, my interests, and me, view some of my artwork, specifically my Art Dolls from the last 10 years, and even arrange to purchase my work.
Q: Why "Goddess and God, Sacred and Mundane"?? What does that mean to you?
Lynn: I am drawn to, inspired and informed by myth and folklore. I believe 5 equal elements make up this life on earth, earth, air, fire, water and spirit – or what cannot be seen. I believe in an eclectic array of forces and archetypes at work in this world and in our lives. That which is unseen is as real as that which is common and of this world and I honor in my work the tale of my life and the lives of others as these forces intertwine and interact with us. Carl Jung speaks of the vessel as an invitation to the invisible or the divine. A room can be a vessel, my dolls are vessels. They are invocations and storytellers. They depict ancient and modern myth and folk practices, the spiritual or ephemeral as well as the simplest or most complex of human emotions, experiences, and desires.
Q: You are prolific and so talented! Every time I connect with you, I discover something new. And I think that the ATC (artist trading cards) trade I did with you was MOST rewarding. So how did you start doing ATCs and how can people see your awesome cards?

Lynn: Thank you. I came upon m. vanci stirnemann's work (www.artist-trading-cards.ch) and at the same time began a correspondence with Don Mabie aka Chuck Stake (www.nucleus.com/~thenewgallery), the artist who really began to spread the ATC experience in North America. I am fascinated with small and tiny things, barter, collection of oddities and anything non-hierarchical. So at a perfect time in my life, these small works of art erased for me much of the "art world" barriers. First, everyone is equal. Second, art is separated entirely from commerce. Third, I get to touch the art! I'm so tactile that it is still a struggle for me in museums as I'm mesmerized and called to sense through touch the magnificence of works before me.
Plus, I have a secret attachment to baseball and baseball memorabilia including trading cards (really, I just have a few….) and this merged two worlds for me.
I've posted some images of my ATCs on my website and have also begun hosting some trading sessions in San Diego (the first here ever was this past August). One can find information on my Events page where date, time and location are listed. Plus, my cards are in many other trader's collections as well so you never know where you might see them!
(Photo: Dewart's Buffalo Grrl ATC)
Q: Your dolls are brilliant. How do you come up with the different ideas and names for them?
Lynn: The first ideas came out of necessity in that I processed actual trauma and resolution through them. Some still come from real life events, some directly from dream images, some from my study of Tarot, others from my research in myth and folklore and the rest from my vivid and active imagination. The names often come from my research in cross-cultural mythology and archetypes. One of my favorite reference sites is Encyclopedia Mythica, which I found through the Pacifica Institute here in California. And I have many, many wonderful books to refer to.
Q: How did you learn to make the dolls?
Lynn: I am entirely self-taught. I began through ritual and play. I simply made it up and still do.
Q: I see the Tarot section on your site, but those aren't cards are they? They look like dolls! Did your really create a whole tarot deck of dolls??? How cool!
Lynn: I am slowly creating an entire deck of three-dimensional pieces…like my tarot page says though, I may be 60 or well past it before it is finally completed.
(photo: The Star from Lynn's Tarot Project)
Q: Also see that there is a theme in one section of the featured dolls -- CATS! Why? Do you have kitty cats?
Lynn: Yes, I have two adopted cats right now, Little One (10) and the still quite feral Milagro (3). I have an intense fascination with and desire to connect with a few species: snakes, octopuses and cats. I don't believe in keeping the first two as pets so stick to the latter. There is luxury in their feline aloofness. sensuality and love of sleep in the sunlight. I am always amazed that all the cats that have ever had me are very much like me in personality.
Q: You've had so many gallery shows and seem to have attended many events. How did you learn the business of your art to do those things? Was it sort of organic -- like, jump in and do it? Or did you have a mentor? That kind of thing...
Lynn: I entered the shallow end first all on my own. I really did take baby steps. It was a couple of years before I even showed people my art and then another before I exhibited in a local co-op (which I do a lot) and another before I put anything up for sale. It took a lot of encouragement and praise for me to step out into the "art world" and even then I still had to survive my own trial by fire.
I did not have a mentor in the ways of marketing my art; I did have a mentor in dealing with the personal and emotional tribulations a very sensitive and reclusive artist like me experiences. I did not necessarily follow his footsteps. Mostly he served to mirror for me that I needed to find my own way and my own way is good.
I made a point to introduce myself to 2 artists every time I was in a show and began to build a small group of like-minded friends who are working artists (I knew only two before this) and they have proved invaluable.
I have a good cheerleading squad! That helps a lot! (…and I never saw any use for them before, ha!)
Q: It's very exciting to see that you teach workshops, too! Can you give us some info about what to expect if we attend? How do we sign up? Where do the classes happen?
Lynn: My workshops are experiential in that I don't necessarily teach people how to make something; this is not about learning a craft. I want people to learn how to experience the power of play and open up to creative process. It really is a therapy but that word is so loaded and the real power comes from playing anyways. I have made my best work in this mode. So I share what I myself do.
I share some cross-cultural ritual and folklore practices that influence me from the Yoruba people in northern Nigeria where the true origins of voodou practices are found, or from the Asante tribe in Ghana. I tell about the recognition of dolls (i.e. totems, effigies, icons, fetishes, etc.) as tools in ritual and play for adults in every other culture in the world except American where we diminish them as simply a young girl's plaything.
All this takes about 15 minutes and the rest is spent in exploration and selection and application of the massive assortment of materials (including one of a kind handmade doll bodies (no two alike) to choose and embellish and build upon) that I bring. I encourage people to use spontaneity in choosing, to set aside the critical mind for the time being and let the muse direct.
There is amazing power and focus of intent in the singular presence of playing and people create a meaningful representation in doll form from the experience.
There are wonderful stories and revelations that emerge and these are often shared. Some workshops are set up to specifically include a journaling and sharing time afterwards.
I hold workshops that are open to the public several times a year each in a couple galleries in San Diego and elsewhere as organized and many others in private homes or venues for small closed groups. They are all unique. People can see the upcoming workshops on the Events page of my website and contact the appropriate party to register. Or they may contact me by email through my website or by phone to arrange for a group of their own and we can discuss the particulars of the situation.
Typically I do not do groups of less than 6 and have worked with more than 25. I have worked in elementary classrooms and would love to do more. My workshops for school children meet all the California Education Standards for Art Education. I have worked in conjunction with therapists and their peers or their clients. I have worked with mothers and daughters and with family groups and with seniors.
I am glad to travel and am working on a road trip next year hoping to include Chicago and New Orleans.
Q: Your artistic resume is stunning! And I have to tell you that I absolutely jumped out of my chair when I saw that YOU are the cover artist for We'Moon '00!!! I have copies of We'Moon going back to the early '90s -- including your issue! I submitted poems to them for like seven years in a row before they finally accepted one. I have never been able to work up the nerve to try for a cover. How did you do that?? What is the doll featured there? I love the stars trailing from her hands!!!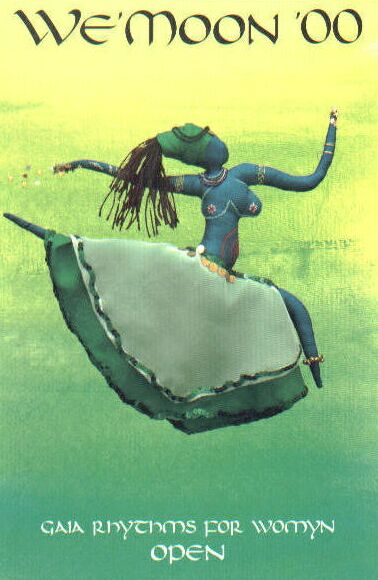 Lynn: Thanks, Kara. Actually, the womyn at We'Moon select the front and back cover art from everything that is sent in for the particular year's theme or from work that they keep on file from year to year. So you just never know!
I was most honored when they chose my Shakti Dancer for the 2000 cover! And I love supporting their community and the work they do for so many. I made that doll for Beltane 1994. She's one of my earlier pieces and actually the first image that presented itself in a dream. I made her because she would not le me be and because of her came to a whole new relationship to creative energy which in my case really does have a life of its' own. She represents Shakti, the Hindu goddess of the Universe, the Essence of the Divine Feminine who spreads the stars through the heavens.
Their calendar/ephemera is excellent advertisement! I have made acquaintances with women around the globe and have sold art to women who are subscribers and saw my work there.
Q: I see on your site that you became a "full-time artist in 1992" -- considering how prolific you are, what in the world did you do before 1992?? How could you possibly have done anything other than art all the time? Was it a "making the ends meet" sort of thing prior to that? Was it just finally taking the leap and making a living as an artist?
Lynn: Here's a story. All the work on my website has been made in the last 10 years. Really. Before that I worked many kinds of jobs in my life from an au pair then weaving instructor in Paris to living in Venezuela, a couple of years off and on in banks as a book or ledger keeper and schools as a teacher's aide, painting custom needlework designs to construction worker, then I finally entered an apprenticeship in 1985 to become a plaster pattern maker (a dying trade that relies on good spatial relationship, math and sculptural skills) at an aerospace factory in Chula Vista, CA. I became the first woman to ever complete the apprenticeship and that is another story… through more hard work I went on to become a Coordinate Measuring Systems Engineer working with Theodolite, Photogrammetry and other non-contact measuring systems in the same company. I also served as liaison with a sister plant in Toulouse, France (including translations duties).
I made excellent money, traveled extensively across the US and France and carved a new path in the field for women.
To put it in a few words, it cost me dearly on a personal, emotional and spiritual as in soul, if you will, basis and the muses not the demons were banging on the door when I lay at the bottom of a dry well. The corporate world, the "things", the pace and demands, I was simply fried and I wanted out.
I had saved up a substantial amount of money and Pres. Clinton had graciously acknowledged the depression in the American aerospace industry and extended unemployment benefits from 6 to 12 months so after much convincing, I was able to obtain a voluntary lay-off and went home to do nothing for a year. That was my plan and everyone, I mean EVERYONE thought I was crazy!
But I'd made up my mind I was not going to look for work, I was going do nothing. To just be. To see what comes up not what I could manufacture. I'd been manufacturing my whole life (no wonder I was good at that last career!) and now I was going to exorcise that demonic "super-achiever prove to the patriarchy b.s. I can do it all" voice in my head. It took me three months to get beyond the first thought of the day being "what are you going to accomplish today?" That was a big step.
I simplified my life, got rid of things and home and stuff and played. I began to sew again after 8 years abandonment. I listened to Joseph Campbell and C.P.Estes and other Jungian analysts and writers and delved into the world of myth and archetype that had served me well years before and taped "Make your hobby your source of income and there's no such thing as work"to my sewing machine. I read anthropology and spiritual practices and Tarot. Very deep self-examination and extensive therapy and most of all play helped me along a road where I picked up the lost bones, the sticks of my bundle. Dolls were very much part of the play. I made dolls to tell the stories I'd never spoken of damage and pain. I made dolls to tell the possibility of hope in the midst of unrelenting depression and loss.
At the end of the year and the benefits and as the money waned I found myself doing what I'd wanted since I was a child but dared not dream or do and that was to make my way as an artist. And now I have really no other choice you see.
I had taken the leap and will not go back.
Now it's about making ends meet.
Q: I know you are part of the FAB Prospero's Book Project that Kimberly Lindbergs started! Can you tell us a bit about your part of that Project and/or about the Project in general?
Lynn: I don't think I could do the entire project justice; I am simply one participant in a group of certainly extraordinary people brought together by Kimberly. She brought the project to life and is continuing to construct an equally spectacular site that will provide information about the premise, participants, the books themselves as we progress towards completion.
As for my small part, I was invited to create the "Book of Utopias" a tome listing 666 Utopian societies and their attributes. Before I could say "I don't have the time to do this now", some part of me said "yes". Truthfully, I am a ceaselessly optimistic idealist who finds the world a very painful place to live so to take the time to investigate, explore, fantasize and borrow to create the the enormous volume (it is listed as the thickest of the books so I hunted down a 1000+ page 1913 volume to alter) meant I found myself reading and thinking about and being moved by groups and individuals who still dream, invent and/or inhabit their own utopias today. Faith restored for the day.
It was meant to be.
Q: I also know that Kimberly started that Prospero's Project at Nervousness (know that coz I'm part of it, too, and Kimberly was featured here at KP in September 2002). Can you tell us what Nervousness means to you? When did you discover it? How have you used it to connect with others?
Lynn: I found nervousness through www.postcardx.com actually. That was a delight in itself yet nervousness offered the chance to collaborate more and trade (anything without commerce !!!) which appeals to me. Between those two sites and artist trading cards, a whole new level of pleasure opened up for me. I found myself using mediums I had not touched in years. I found myself freed from any constraints and really enjoying playing with these possibilities. I also found it to be a place to allow people to know more about me in a small and meaningful way…it is a massive mutual admiration society (and who doesn't need that?) in some respects and I have encountered some very talented people and even most importantly, very kind, considerate and generous kindred spirits.
And it helped me deal with and move along in quite a rough patch in my personal life.
I went through a phase of spending way too much on postage and swaps but a sense of balance has returned and now I'm concentrating on connecting more deeply through art exchanges or correspondence with some of the fine people I've met there.
Q: Any words for "newbie" artists?
Lynn: I tend to feel like I'm nobody to be giving direction but I will counteract that thought with a few words...[and a quote]...
Have supportive and encouraging friends! Really, a cheerleading squad is necessary at times!
Don't compare yourself to others. Follow what interests you. Be true to yourself and your means of expression. Stay away from people who say "you're too this or you're too that" it's our deepest and darkest that provides the best grist for art.

"The way to the heart is through individual expression and feeling, not through the collectivism of either artistic schools or political structures" – Bernard Jacobson
Q: Any words for "working" artists?
Lynn: (feels even less qualified to answer…) Advocate for yourself and your lifestyle.
Somebody told me when starting a "business" to give it a year and then you'll know.
I say give it at least two so you can experience the rhythms and cycles whether of economics or demand. And it is still day by day much of the time for me.
Q: What do you see down the line for lynndewart.com and your art? What's your vision for 5, 10, 20 years from now?
Lynn: Hooo. Deep breath. Am hoping that I will have connected enough with people and patrons and collectors that I will not need to be tied to this city any longer and can live wherever I want.
(Photo below: Dewart's dolls titled "Ghost Girls: Lost Loves, Lost Babies, Lost Friends, Lost Dreams)